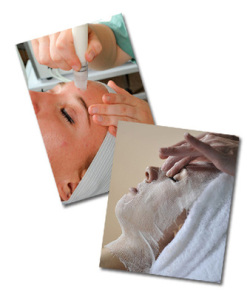 Skin Care Transformation Treatments


All facials include skin analysis to decide what is the best treatment for your skin type or condition, cleanse, steam, exfoliation, extractions, mask, and a relaxing massage (face, neck, arms and hands). I also work with you to create an at home maintenance program that will be both easy to use and will help maintain the skin healthy.
LED Facial – $120
LED Light therapy is a painless, even relaxing skin-care treatment that can address multiple skin concerns. For those seeking anti-aging, LED plumps up aging skin by boosting collagen production. Suitable for all ages and skin types, LED can also help manage moderate acne by controlling inflammation and killing bacteria.
Signature European Facial – $80
Deep pore cleansing, surface exfoliation, deep hydration and advanced nourishing – are performed with a facial, neck, shoulders and hand massage to provide a calming experience that takes the client into a deeper relaxation. Specialized products and techniques are selected to enhance your texture and appearance.
Clarifying Acne-Prone Facial – $75
Highly effective purifying and deep-cleansing treatment designed to remove impaction of cells and sebum in pores, to decongest skin of acne and breakouts, also reduce inflammation and redness for a healthier-looking, clearer skin.
Rosacea-Prone / Sensitive Skin Facial – $75
An exclusive complex of ingredients that visibly reduces chronic redness and inflammation while repairing the protective barrier and rebuilding the dermis.
Non-Chemical Peel – Facial Infusion – $105
The Facial infusion avoids damaging the epidermis by penetrating several high dose active ingredients into the dermis through liposomal delivery. The peel remodels the dermis and is gentle for all skin conditions. Can be customized to treat acne, rosacea, aging, or pigmentation. This treatment reveals fresh skin, minimize pores, smooth lines and brightens skin tone.
Diamond Microdermabrasion Facial- $110.00
It is a quick, safe, effective form of exfoliation for all skin colors and types with no downtime, no pain or discomfort. It uses a diamond-tipped applicator with a slight suction to remove dead or damaged skin cells. This procedure removes skin debris , imperfections, blemishes, wrinkles and unwanted pigmentation on the skin. Increases the production of collagen and elastin and helps to maintain an even cellular growth to promote youthful looking skin.
Ultrasound Duo Anti-aging/Lifting Facial – $85
Firms and plumps skin while promoting the cell renewal process. Begin with a deep cleansing followed by a speed peel gel used to reveal a smooth, moist skin. Exfoliation and skin firming treatment penetrates the skin to reach the dermal layer. A toning mask to brighten, smooth, and soften your skin will leave a healthy radiant glow. Last, a skin firming cream is applied to help increase elasticity
Pre-paid package of 5 treatments – $400.00
Maintenance – after series of 5 treatments – $65.00