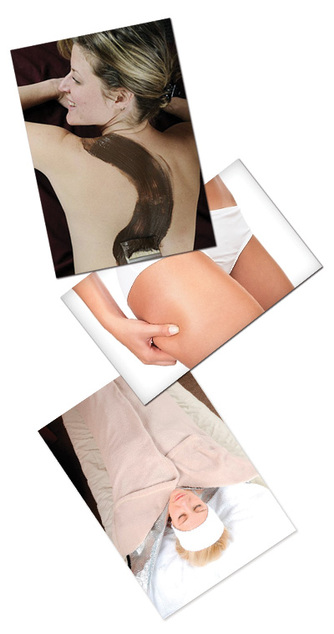 Body Treatments to Firm, Tone and Contour

A number of effective treatments to support you getting back into shape or staying in shape, and to help you firm, tone or contour your body. These can be the perfect way to support a weight loss program, an exercise routine, and to help recover your figure after pregnancy – or to get back into a favorite dress for a special occasion.
Lypossage – $100
It is a non-invasive, clinically proven body contouring and detoxifying therapy that can transform your body shape. Best works in a series of 18 sessions.
>>more info
Purifying & Detoxifying Body Wrap – $60
This body wrap use 100 % natural ingredients that promotes the elimination of toxins and helps to maintain and re-establishes the skin natural balance through metabolic stimulation without dehydrating the body, it also have the ability to nourish the skin. The treatment begins with exfoliation and incorporates lymphatic drain massage techniques.
Back Treatment – $50
Enjoy a "facial and a massage" in your back plus your choice of foot massage with reflexology or a head massage.
Body Scrub – $50
A total body exfoliation with Dead Sea Salt and essential oils followed by a massage with a hydrating cream, leaving the skin glowing and smooth. A body scrubs is a great way to keep your skin healthy and beautiful improving circulation and hydration.
Biomagnetic Therapy – $55
This is a natural therapy that seeks to equalize the organism's pH level with the use of medium intensity magnet pairs. It has the ability to combat disease by removing viruses, bacteria, fungus or parasites.